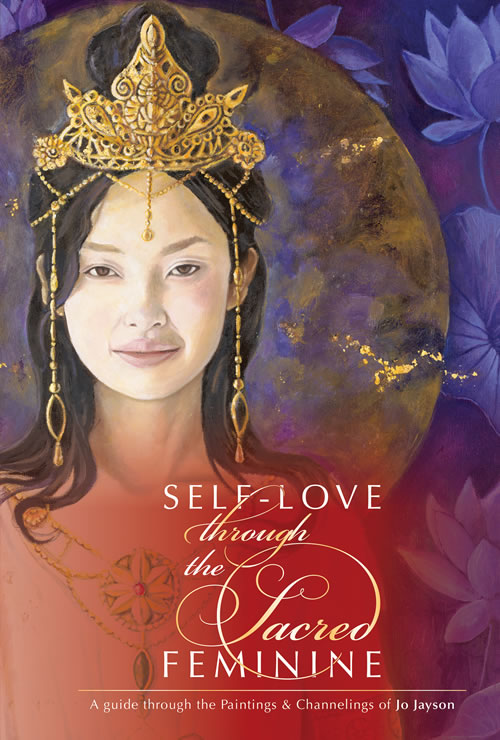 Self Love Through The Sacred Feminine
A Guide To Self-Love, Through The Paintings & Channelings of Jo Jayson
NOW AVAILABLE ON AMAZON US, EUROPE AND CANADA
FOR A SIGNED COPY, FOR US CUSTOMERS ONLY, GO TO MY ETSY STORE
https://www.etsy.com/shop/JoJaysonGoddessArt
(published by Schiffer Publishing Ltd)
CLICK HERE FOR DETAILS
Award-Winning book – Finalist of 2017 Covr Visionary Book Award and Winner of Peoples Choice Award
(Personal Development/Self-Help Category)
Inspire | Heal | Empower
Painting for me has always been an act of deep intimate connection with myself. In the act of painting and capturing an emotion, expression or energy on to the canvas, I have had the privilege of following my passion and I will be forever grateful for the time life has allowed me to create the paintings and teachings that you will find here.
For many years now my work has channeled in the energy of the Feminine to empower and inspire women and men all over the world. Whether it be representations of the chakra energy system in feminine form or the collection of thirteen ancient Goddesses, Women of strength and Prophetesses in history, the feminine aspect of ourselves, life and the Divine has always fascinated me. It has felt like a calling to represent this feminine essence of beauty, nurture and healing and to bring back some balance into the representation of the Holy. This aspect some call the Divine or Sacred Feminine, others call it the Goddess as a counterpart to the masculine God. We have the aspects of the God/Goddess within us all, we are all reflections and expressions of what we like to call the Divine. For so long the divine and the sacred have been represented in the male form and we have forgotten the masculine's natural compliment. Just as in nature we see the feminine and masculine interplaying and coexisting together, so we do in ourselves and in all aspects of life. When the masculine and feminine aspects are aligned, balanced and in harmony, there is a wholeness and unity that one experiences within themselves and with another. We are witnessing this balance slowly returning back into our culture and our world.
My work is ever changing and evolving and I am sure will continue to do so. As I embark now on a new Zodiac series , I continue to offer private painting commissions, guidance sessions, and new workshops and retreats on empowerment and healing. In 2019 I will also be offering online painting classes on technical paintings/drawing skills. Whether it be my painting, my products, my book or a class, a guidance session or a retreat, my hope and intention has always been, and continues to be, to heal, inspire and empower.
I welcome you to my website, gallery and store.