Thursday evening January 31st 8-10pm EST
$25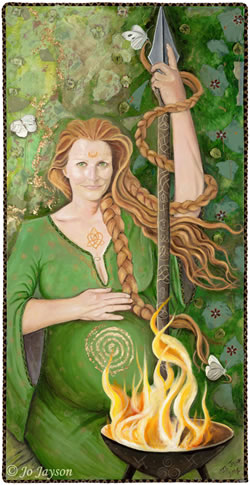 Join me in learning and celebrating the ancient Gaelic Celtic festival of Imbolc which marks the beginning of spring and is represented by the Ancient Irish Goddess Brighid. This festival is also recognized as St Brigits day and in a Christian form, as Candlemass . These festivals, all falling on February 1st, are sacred days where the light is celebrated in its return, after months of darkness. With this light comes a rebirth, a new beginning and a fresh season. A new cycle.
As well as discussing the origins and rituals of Imbolc, we will also discuss in some depth, the beautiful Sacred Feminine energy of the Goddess Brighid, her realms, her blessings and rituals and her lesson, which is one of the chapters in my book "Self-Love through the Sacred Feminine" . Brighid's lesson is about learning to flow through the cycles of change in ones life and how to move through these changes with grace and gratitude.
We will have a short blessing and mediation at the end of the call and suggestions will be made for your own acknowledgement of this beautiful ancient festival and how it may bless your year to come.
REGISTER & PURCHASE BELOW