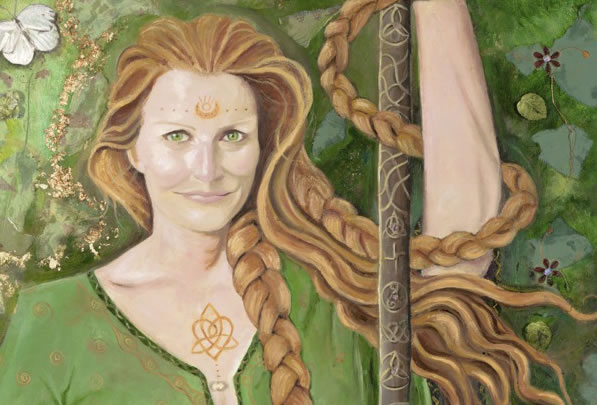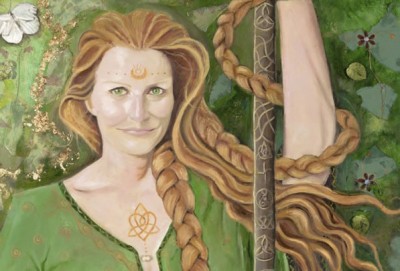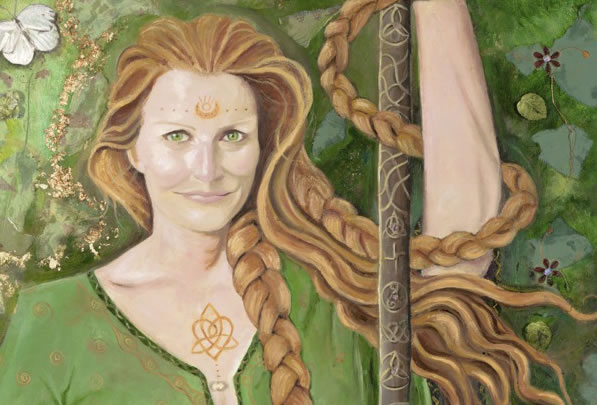 Hello dear friend….
'Winter is on my head, but Eternal Spring is in my heart' – Victor Hugo
Well I hope you are all keeping warm and cosy during these bitter cold winter months and for those of us here in the US, I hope you are managing to withstand this polar vortex that has uninvited itself into our lives causing havoc and chills for so many. Snow is coming thick and fast here in New York….and has made myself, as so many, hide away inside and go into hibernation mode. Winter is so clever like that, in the way that it allows us to rest, to recuperate and retire. As the earth is covered in blankets of white, we retreat to our own blankets…to take the time to quiet our lives, slow down our schedules and renew our intentions for the year ahead. Today is the New Moon and in two days (February 1st) it is Imbolc….a gaelic pagan festival, marking the beginning or birth of spring, half way between the winter solstice and spring equinox. Imbolc means "full belly", a term given to lactating or pregnant ewes, preparing to give birth or nurse their newborns. Imbolc is the time of new life, rebirth, renewal. Brighid , the Mother Goddess of Ireland, is honored and beloved on this day…she appears as a maiden, welcoming the birth of spring, sowing the seeds of the first crops, midwiving the birth of newborn herds and encompassing the next cycle of nature. Some may know this day as St Brigit's Day, or Candlemas – all christian forms of the old pagan Imbolc celebrations.
Brighid, as well as being a triple Goddess, (meaning she appears as the Maiden, the Mother and the Crone) – is also a fire Goddess. Imbolc is a fire festival (Candlemas) …..the fire of protection and purification, the comfort of the hearth fire in your home, the spark of new life and creativity. As you light YOUR fires this winter, or your favorite candles….and sit around them in cosy contemplation, what seeds are you planning on sowing this new year ? Since it is January's 2nd New Moon …it is even more important to listen to and acknowledge your desires and dreams whispering under the surface ….and as spring gets ready to burst forth through the hardened ground, life is asking you….what are these new hopes and dreams you are wishing to birth into the spring and summer seasons ? Take the time now to reconnect with your own natural cycles……to reconnect with nature and embrace her direction ….. allow nature to take you on her journey of rebirth, blossoming, harvest and rest.
Brighid's Prayer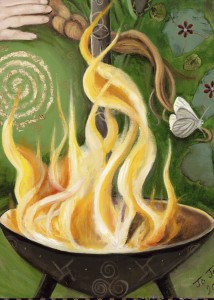 Breathe deep now in and out, open your heart to the warmth that I offer you.
As my flame burns eternally, know that you are kept warm by my love for you and that your cares and worries
are burnt away by the brightness of my light. Your own heart also carries this flame.
It is the eternal light of your soul. As each new season in nature brings a new cycle,
so also do you ride the cycles of your own life. Rest easy in the natural rebirth and renewal of your own spiral of being.
You are protected and supported and in this comfort, find your own spark to create healing, inspiration and oneness with nature.
© Jo Jayson 2013 (not to be used or copied without prior permission)
This beautiful prayer is on the back label of Brighid's candle. Natural Palm wax candle is infused with essential oils and fragrances that smell like a beautiful fresh herb garden and on the top is Adventurine, Peridot and green glitter encrusted and embedded in the wax – (click on image for more info)

As a special offer for this New Moon and Imbolc, I'm giving away a FREE BRIGHID DIGITAL PRINT ($20 value) with every candle and oil purchased together OR candle and pendant/greeting card purchased together. Just click here to shop and send me a message that you would like your free digital print of Brighid with your purchase
http://www.zibbet.com/JoJaysonArt
So, with that all being said……I wish you a beautiful and potent New Moon, the space and time to focus on your deepest desires and wishes and to be able to sow them with magical intention. May your Imbolc be joyful and fruitful, with many wondrous treasures and surprises emerging from this restful time of winter
with love
jo
https://www.jojayson.com/wp-content/uploads/2014/04/brighiddetail.jpg
405
597
Jo Jayson
https://www.jojayson.com/wp-content/uploads/2021/11/newjologo2.png
Jo Jayson
2014-01-16 09:12:53
2014-08-12 15:55:34
Imbolc and New beginnings