Way way back 5 years ago, in 2015 I painted Kali-Ma, the beloved but much feared Hindu Goddess. At the same time as I was painting her, the Empire State Building displayed her image on its facade….. coincidence it was not.
In 2017, two years later, I wrote a blog called "In the Time of Kali", which stated that we were in a state of chaos, disruption and disorder, which would bring about the end of the old ways….and make way for a new beginning. 
(you can read that blog below in just a minute)
Right now, we are moving through what will be the last part of the eye of the storm. Yes, its taken a long time, and this storm still has quite a lot of havoc to play out before it is over. However, many of us find ourselves in lockdown or quarantine and we are forced like never before in our time, to settle down with ourselves, in the shelter of our own homes , alone or with our families and asked to have faith that the new beginning will be coming soon.
In the the 2017 blog below, you will read about the energy of Kali-Ma, a feminine destructive and often terrifying force of creation that destroys all that needs to end, and clears the way for the creation of a new beginning.
Since I painted Kali in 2015, and then wrote my piece in 2017, we have seen incredible turmoil and upheaval globally, particularly in those areas of the world that lead the way- the USA, and UK/ Europe. We have experienced the metaphoric hurricane I had talked about, not just politically but also in the destruction of many parts of our natural world, our beloved planet. Humanity has done much damage, but many of the fires burning throughout millions of acres of land that we witnessed, were part of this hurricane of destruction.
There was always a universal plan, and now we are coming to its final stages. 
Fear is ripe, it is rising from the depths of all of us and asking, if not begging to be healed. Faith is waiting to be held, as we move into a new era of cooperation, compassion, clarity and heart-centered existence. Every single one of us that has found themselves in unstable, fearful circumstances has sent out a prayer, wether through words or thoughts, for a more peaceful, harmonious and compassionate world. The universe heard us, and the old is dying, and by the end of this year, we will see a lot gone, of what no longer serves this new way life.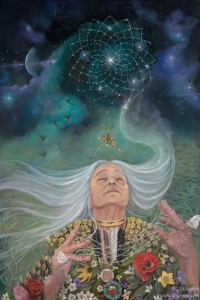 Grandmother Spider – The Weaver © Jo Jayson 2016
A new way is being born, and it is being born from this terror and uncertainty we are experiencing. Compassion for others is bursting out of our hearts and true leaders are shining with compassion and understanding. Those that are still in the old ways of greed and selfishness, corruption and fear, will take their leave of this universal stage. There is an amazing healing happening right now.
Now more than ever we are being asked to send our love out to those that need it, reach out to our neighbors, slow down, recalibrate, get in touch with all that is most important and let go of a world of excess, and harmful ideology. There is a great light in front of us, and it will arrive sooner, the more we all can come back to ourselves, our families, our loved ones, our health and wellbeing, nature, and true harmonious cooperation with our fellow man. People will reject anything that does not comply with this new way, and we will see The People, as citizens of the earth, rise up and be their own leaders of change.
This virus is global for a reason…..how else does it teach humanity that we are , without a shadow of a doubt, every single one of us, part of a global unity. We truly are all part of the web of life.
Wishing all of you, peace, quiet, reflection, healing, and compassion in these extraordinary times and may we send prayers and thanks for those on the front lines of this storm, the nurses and doctors, grocery store staff, first responders and elected officials to name a few. © Jo Jayson 2020
To read the 2017 Blog "In the Time of Kali" © Jo Jayson
https://www.jojayson.com/wp-content/uploads/2021/11/newjologo2.png
0
0
Jo Jayson
https://www.jojayson.com/wp-content/uploads/2021/11/newjologo2.png
Jo Jayson
2020-03-22 16:02:23
2021-12-07 10:33:04
The Time of Kali – How we are transitioning from the ending to a new beginning – Part 2