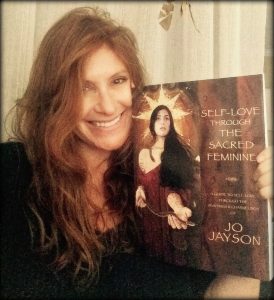 🙂 MY BOOK IS RELEASED 🙂
A TIME TO BE FEARLESS……1/1/17
As you wake up today in a new year, a new beginning and a new perspective, we can all say goodbye to a 2016 of struggles, chaos, conflicts and challenges. All years have these aspects but this past year seems to have been more intense than others. This past year I wrote my book, "Self-Love Through The Sacred Feminine". It was a 6 year process which culminated and concluded in the energetic "9" year which was 2016. As many know, "9" years are conclusions, endings and wrapping ups. After the long effort of writing and publishing my book, I realized that that was the easy part……
The journey for me back to self-love was difficult and long for sure and writing the book was in no doubt a challenging part of the journey but the hardest part came after the book was written. Now I had to share myself in a way I had not done before, to the outside world and to those who may not be aware of all I do. Some groups of people in my life know me just as an artist, even though for many I am also a spiritual teacher and intuitive channel. Over the years I have managed to keep these parts of myself separate and hidden from those who may not understand or appreciate. It felt comfortable to do this and there is a security and safety in keeping aspects of yourself hidden from a cynical world.
This book has given me a gift. It not only illustrates and records the images and wisdom I have received these past 6 years and the opportunity to share it with others in the offering of healing but it has pushed me out of my very cosy comfort zone. There does come a time when we are asked "who am I?" We have to muster a certain courage and honest to answer that question without blurring or filtering aspects of ourselves to make others feel comfortable. This book has terrified me into a paralyzing fear of being seen for all that I am……and yet this book offers me the opportunity to walk through the door into my next chapter and stand firmly and authentically in the glorious light of me 🙂
This year we are being asked to live fearlessly……to stop hiding. Follow our hearts. Stand in our own light. Speak our truth. Fight for all we believe in. This year we are to take the disappointment and fear of last year and transmute it into personal power. This year we are to stop moaning and to start acting. This year we are to become our own heroes. This year we are to become the change we long for. This year we are to walk bravely towards all that we want and to sow the seeds for a future we believe in.
I wish you a brave, authentic and fearless 2017 © Jo Jayson
SELF-LOVE THROUGH THE SACRED FEMININE
A Guide to Self-Love through the Paintings and Channelings of Jo Jayson
Signed copies on Etsy for US Customers https://www.etsy.com/shop/JoJaysonGoddessArt
All Customers can order on Amazon
All Customers outside the US purchase via Amazon in your own country xxxx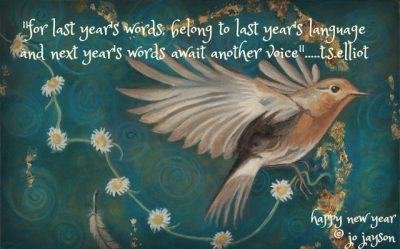 https://www.jojayson.com/wp-content/uploads/2021/11/newjologo2.png
0
0
Jo Jayson
https://www.jojayson.com/wp-content/uploads/2021/11/newjologo2.png
Jo Jayson
2017-01-01 10:14:23
2017-01-01 17:33:58
A Time to be Fearless